Montag, 13. Februar 2012
One for the night:
Ein unoffizielles Live-Album von James Blake - also genau das Richtige für Montag Nacht (
Download
).
Tracklisting:
01. Unluck (Live)
02. The Wilhelm Scream (Live)
03. I Never Learnt To Share (Live)
04. Lindisfarne (Live)
05. Limit To Your Love (Live)
06. Give Me My Month (Live)
07. To Care (Like You) (Live)
08. Anti-War Dub (Live)
09. Klavierwerke (Live)
10. CMYK (Live)
11. Once We All Agree (Live)
12. A Case Of You (Live)
13. Enough Thunder (Live)
14. Love What Happened Here (Live)
15. Tep And The Logic (Live)
» via
Dressed like machines
Absolut sehenswerte Dokumentation von Felix Müller - sollte meiner Meinung nach in jeder Schulklasse mal gezeigt werden.
Falls ihr die Doku noch nicht kennt: Tut euch selbst den Gefallen und seht euch das Ganze komplett an, ohne zum Ende zu skippen:
Oleg sucht den ultimativen Kick, das Spiel mit dem eigenen Leben. In einer verlassenen Kaserne treffen sich ein paar Männer, um wie in einer Kriegssituation mit scharfen Waffen aufeinander zu schiessen.

Von mir um 21:29h in
schöne neue welt

permalink
|

Kommentar
(0 Kommentare)
Gutes Tutorial, um seine Photoshop-Kenntnisse irgendwann einmal einem diktatorischen, restriktiven System anbieten zu können. Und nicht vergessen:
"There's no crime against humanity a spot brush can't fix."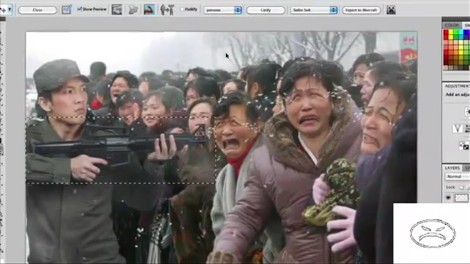 » via
Photoshop Weblog