Montag, 20. Februar 2012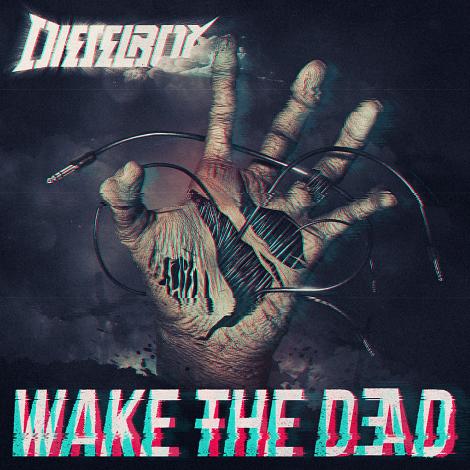 Ein Drum'n'Bass / Dubstep Mix von Dieselboy, der selbst die Toten wecken müsste - also genau das Richtige für den Montag. Download gibt´s auf der
Facebook Fanpage
, Tracklist in den Kommentaren:
"My goal is to make the most intricate, layered, and amazing mix that's ever been done. Period. I'm not trying to just put out a mix; I'm trying to put out a mix that other DJs will listen to and aspire TO do. I don't fuck around. I want to be amazing."

This quote, taken from a recent interview, sums up the Dieselboy philosophy when it comes to making mixes. There are a million lifeless djs and a million mediocre mixes.

This is not one of them.
Dieselboy - Wake The Dead (DOWNLOAD LINK BELOW) by Dieselboy
» via
Mishka

Von mir um 12:00h in
musique

permalink
|

Kommentar
(
1 Kommentar
)
kolos
, Montag, 20. Februar 2012, 12:00
Dieselboy - Wake The Dead // PLANET HUMAN
Phace + Misanthrop - Energie // NEOSIGNAL
Phace + Misanthrop - What's Wrong // NEOSIGNAL
Hamilton - Brainstorm // RAM
Curfew - Vandal // BAD TASTE
Enei - Obsession Feat DRS // CRITICAL [CLIP]
Noisia + Phace - Program // VISION
Noisia + Upbeats - Blindfold // NON VOGUE
Prolix - Who Run It // TRENDKILL
Blokhe4d - Shithouse Kicks // BAD TASTE
C4C + Fierce - Carrier // QUARANTINE [CLIP]
Muffler - Cybertron (Pixel Fist Remix) // SUBHUMAN
TC - New Style // DONT PLAY [CLIP]
Dom + Roland - Enforced // DRP
Xtrah - Contortion // SUBTITLES
JLS - The Club Is Alive (DC Breaks Remix) // EPIC
Dope Ammo + Tone Def - Rollin (Subzero Remix) // DOPE AMMO
Camo + Krooked - Anubis // HOSPITAL [CLIP]
Crystal Clear + Zen - Heavy VIP // REAL PLAYAZ
BTK - Drop It // DUTTY AUDIO
Hans Zimmer + James Newton Howard - Why So Serious? // WARNER BROTHERS [CLIP]
Split + Jaxta - Roulette (Terravita Remix) // ALWAYS NEVER
Skrillex - Kill Everybody VIP // MAU5TRAP
Need For Mirrors - Lofar // METALHEADZ
Evol Intent - Middle Of The Night (Reso Remix) // EVOL INTENT
Krusha + Zardonic - Without You // HUMAN IMPRINT
Mikal - Lifts Me Up // METALHEADZ [CLIP]
Chasing Status - Flashing Lights (S.P.Y. Remix) // RAM
BTK - 40 Channels Of Funk // VIRUS [CLIP]
Metrik - Genesis // VIPER
Subfocus - Stomp // RAM
The Upbeats - Undertaker // NON VOGUE
Hive - Blackout // RAM [CLIP]
Liquid Stranger - Planet Freak vs Friendly Intentions // DUB
DJ Hazard - Busta Move // REAL PLAYAZ [CLIP]
Erb N Dub + Legacy - Alaska // REAL PLAYAZ
Noisia - Regurgitate // VISION
Wickaman + RV - Ev's Dead // PLAYAZ [CLIP]
Prolix + Dose - Serial Sinner // UPRISING
The Fix + Generic - Connections // VIBEZ [CLIP]
Zardonic + Playma - Kickass // BIG RIDDIM
S.P.Y. - Slum Dub // SOUL:R [CLIP]
Tantrum Desire - Reach // TECHNIQUE
Ming + 2 Beeps - Crazyish (Gridlok Remix) // HOOD FAMOUS
Ill Skillz - Golden Cage // CONVOY UNLIMITED
Mindmapper + Silvahfonk - Flash Forward // DEMAND
Joker - Slaughterhouse Feat Silas (TC Remix) // 4AD [CLIP]
Taxman - Filth Funk // REAL PLAYAZ [CLIP]
Ajapai + Liquid Stranger - Contamination // DUB [CLIP]
Zardonic + Mark Instinct + Numbernin6 + Run DMT - Real Steel // BIG RIDDIM
Emalkay - Explicit (Shy FX VIP ) // DUB POLICE [CLIP]
Dieselboy + Bare - W.M.F.D. // SUBHUMAN
Bare + Mark Instinct - Fucking Vicious // SUBHUMAN [CLIP]
12th Planet + SPL - Lootin 92 VIP // SMOG
Adam F - When The Rain Is Gone (Delta Heavy Remix) // DUB
Delta Heavy - Overkill // RAM
Numbernin6 + Zardonic - The Final Five // SUBHUMAN
Total Science + S.P.Y. - Magic Hour // CIA [CLIP]
T.O.B. - Decoy (Mark Instinct Remix) // MUTI
Dieselboy + Bare - Beyond Thunderdome // SUBHUMAN
Bare + Liquid Stranger - Rage // SUBHUMAN
Bare - War Hawgz // DUB [CLIP]
Bare + Muffler - Megatronik (Pixel Fist Remix) // SUBHUMAN
Excision + Downlink - Crowd Control // ROTTUN
16 Bit - The Milkybar Kid // DUB
Muffler - Gangwarz (Bare Remix) // SUBHUMAN
Bare + Flinch - Untitled // DUB [CLIP]
Mayhem + Bare + Logam + TL - Full Metal Jacket // SUBHUMAN
Excision + Skism - sEXisM // ROTTUN
Mayhem + Logam + TL - Cryptkeeper // SUBHUMAN
Bare + Datsik - King Kong (Mark Instinct Remix) // SUBHUMAN
Monstar - Face Fucking Bass // DUB
Nightwalker - Boogeyman // SUBHUMAN
Tim Healey + Freq House - Resistance Feat Loc-E + Pippa Trix (Mark Instinct Remix) // SURFER ROSA
Knife Party - Destroy Them With Lasers // KNIFE PARTY [CLIP]
DJ Chuckie - Who Is Ready To Jump (Dillon Francis Remix) // BIG BEAT RECORDS
Dream - Go Hard (Crizzly Remix) // DUB [CLIP]
Bare - Broken // SUBHUMAN
Mayhem + Mark Instinct - Nerds // SUBHUMAN
Monstar - Feck // DUB
Hulk + Dan Wall - Brotorious // SUBHUMAN
Muffler - Move (Nightwalker Remix) // SUBHUMAN
Pixel Fist + Nanotech - Sacred // DUB
Cenob1te - Onslaught // DUB
Mayhem + Trench - Remember Me Feat Naz Tokio // SUBHUMAN
Amon Tobin - Surge (16 Bit Remix) // NINJATUNE
Muffler - Calling Your Name (Skism Remix) // SUBHUMAN
... link
blog comments powered by

Disqus