Mittwoch, 18. April 2012
Langweilen euch diese ganzen Slow Motion, Timelapse oder Tilt Shift Videos die überall kursieren inzwischen auch so wie mich? Bei "Stupidity captured in 2500 Frames per Second" von Dumt & Farligt geht es allerdings um sinnlose Zerstörung in Slow Motion - und dagegen kann man ja nun wirklich nichts einwenden:
» via
Kottke
So würde also Donald Duck als
Dogma 95
Film aussehen. Der Fake-Trailer wurde von der isländischen Comedy-Gruppe
Mid-Island
in Szene gesetzt: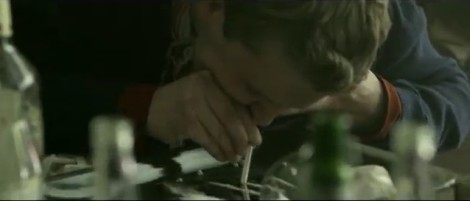 Donald leads a tormented life on the unforgiving streets of Duckburg, where sometimes he must betray his own conscience to make ends meet.

Donald has to raise his 3 nephews, deal with a cheating girlfriend and put up with working for his stingy uncle; the richest duck in down. This is a tale everyone can relate to.
» via
Interweb 3000
Maboo Shades
ist eine neue und stylishe Sonnenbrillenkollektion von Verde Styles. Die drei Versionen
Jays
,
Stix
und
Crowns
werden dabei umweltfreundlich aus Bambus handgemacht.
Die "Jays" stehen schon mal auf meiner Wunschliste - der Preis geht dabei mit $85 auch völlig in Ordnung.
» via
Hi Consumption