Montag, 9. Januar 2012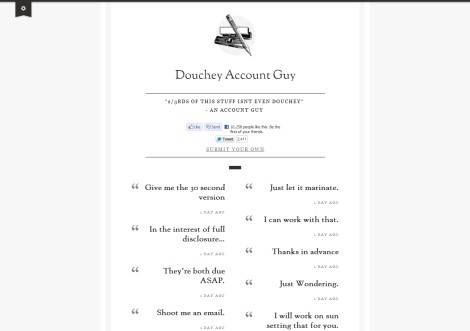 "Give me the 30 second version"
"They're both due ASAP."
"Shoot me an email."
"I'm not a Creative, but…"
"Is there any way we can we make this more edgy?"
"Can we make this look more Web 2.0?"
"Explain it to me like I'm a moron."
"I'll be honest, I'm not really feeling it. I don't know what to do - any ideas?"
» mehr davon bei
doucheyaccountguy.tumblr.com

Von mir um 14:50h in
gute seiten schlechte seiten

permalink
|

Kommentar
(0 Kommentare)
The Prodigy Mix (Out of Space, No Good, Smack My Bitch Up, Omen, Breathe, Firestarter originally performed by The Prodigy), performed by Viva Vox choir from Serbia, Belgrade, Zemun.
Live a cappella performance at Sava Centar, December 2011.
»
Website
»
Facebook Fanpage
»
Twitter
» via
AudioPorn Central