Sonntag, 1. Januar 2012
Auch wenn es anfangs noch nicht danach aussah - 2011 war ein wirklich gutes Musikjahr mit einigen altbekannten Größen, aber auch zahlreichen musikalischen Neuentdeckungen. Hier also ohne grosse Umschweife meine persönlichen Lieblingsalben 2011: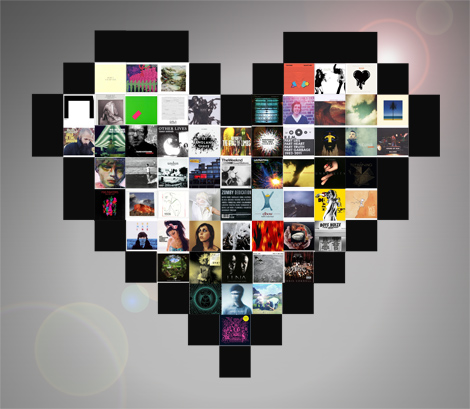 Alex Turner: Submarine Soundtrack
Alva Noto: Univrs
Amy Winehouse: Lioness - Hidden Treasures
Apparat: The Devil's Walk
Beirut: The Rip Tide
Birdy Nam Nam: Defiant Order
Bon Iver: Bon Iver
Boys Noize: The Remixes 2004-2011
Bodi Bill: What?
Bright Eyes: The People's Key
Casper: XOXO
Chelsea Wolfe: Apokalypsis
Chris Cornell: Songbook
Com Truise: Galactic Melt
Cults: Cults
Danger Mouse & Daniele Luppi: Rome
dEUS: Keep You Close
Dominik Eulberg: Diorama
Elbow: Build a Rocket Boys!
Foo Fighters: Wasting Light
Four Tet: Fabric Live 59
Gil Scott-Heron & Jamie xx: We're New Here
Girls: Father, Son, Holy Ghost
IAMX: Volatile Times
James Blake: James Blake
Jamie Woon: Mirrorwriting
Kakkmaddafakka: Hest
Karsten Pflum: No Noia My Love
Lotte Kestner: Stolen
Metronomy: The English Riviera
Modeselektor: Monkeytown
Mogwai: Hardcore Will Never die, But You Will
Nicolas Jaar: Space Is Only Noise
Noel Gallagher: Noel Gallagher's High Flying Birds
Oliver Huntemann: Paranoia
Other Lives: Tamer Animals
PJ Harvey: Let England Shake
Radiohead: The King of Limbs
Radiohead: Tkol Rmx 1234567
R.E.M.: Best of: Part Lies Part Heart Part Truth Part Garbage 1982-2011
SBTRKT: SBTRKT
Scuba: DJ Kicks
Sound of Rum: Balance
Stephan Bodzin vs. Marc Romboy: Luna
The Death Set: Michel Poiccard
The Pains Of Being Pure At Heart: Belong
The Rapture: In the Grace of Your Love
The Roots: Undun
The Streets: Computers and Blues
The Weeknd: House of Balloons
(kostenloser Download)
Trentemøller: Late Night Tales
Trentemoller: Reworked/Remixed
Trickski: Unreality
Tu Fawning: Hearts on Hold
Unkle: Another Night Out
We Invented Paris: We Invented Paris
William Fitzsimmons: Gold in the Shadow
Wu Lyf: Go Tell Fire to the Mountain
Yuck: Yuck
Zola Jesus: Conatus
Zomby: Dedication
Auf
der Warteliste
stehen ausserdem noch ein paar Dutzend weiterer Alben, die´s aus dem ein oder anderen Grund nicht ganz in die Best of 2011 Liste geschafft haben. Schadet natürlich trotzdem nicht auch da mal reinzuhören ;)
blog comments powered by

Disqus