Freitag, 12. Dezember 2008
Das Smashing Magazine
bietet heute eine unglaubliche Fülle an Photoshop Shapes aus den verschiedensten Bereichen. In 80 Sets, die in die Kategorien People, Animals, Planes and Boats, Guns and Weapons, Halloween Shapes, Trees, Circles, Random Shapes und Combination Packs untergliedert sind, finden sich dabei insgesamt über 2500 individuelle Formen: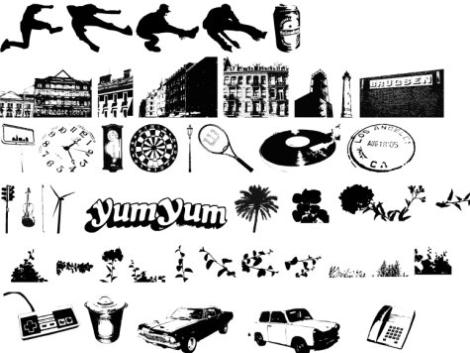 This post highlights 80 different sets of custom shapes (over 2,500 individual shapes) in several different categories. If you plan to download and use any of these shapes be sure to check to terms and conditions set by the creator of the shapes.
»
Zur kompletten Übersicht bei Smashing Magazine
Wenn wir (das königliche wir) heute schon im Retro-Fieber sind - darauf freue ich mich wirklich schon wie ein kleines Kind... auch wenn ich bete, dass man dabei das Original (vielleicht zumindest per verstecktem Cheat?) auch zocken kann:
»
Das Gameplay-Video mit Audiokommentar
The Great Giana Sisters ist Jump'n Run-Kult, nicht nur weil es großartig designt, sondern auch eine gut geklaute Variante der Gebrüder Mario war - was das Spiel ebenso beliebt wie kurzlebig machte, da Nintendo schnell den Stecker zog. 20 Jahre gingen seitdem ins Land, die von »Gebt uns mehr!«-Rufen begleitet waren. Die stießen jetzt endlich auf Gehör, denn laut einer Pressemitteilung von dtp Entertainment arbeitet Spellbound Entertainment an einer DS-Version der wandelfreudigen Schwestern.
»
weiterlesen bei 4players.de
Weitere Indie-Remakes von Game-Klassikern bei 4players:
www.4players.de/4players.php/dispbericht/360/Special/8821/7333/0/Independent_Games.html
»
Best of C64 Classix
- 500 Vollversionen für PC & Mac

Von mir um 01:41h in
gaming

permalink
|

Kommentar
(
2 Kommentare
)